Northern Kentucky Targets Students to Increase Use of Student Mental Health Resources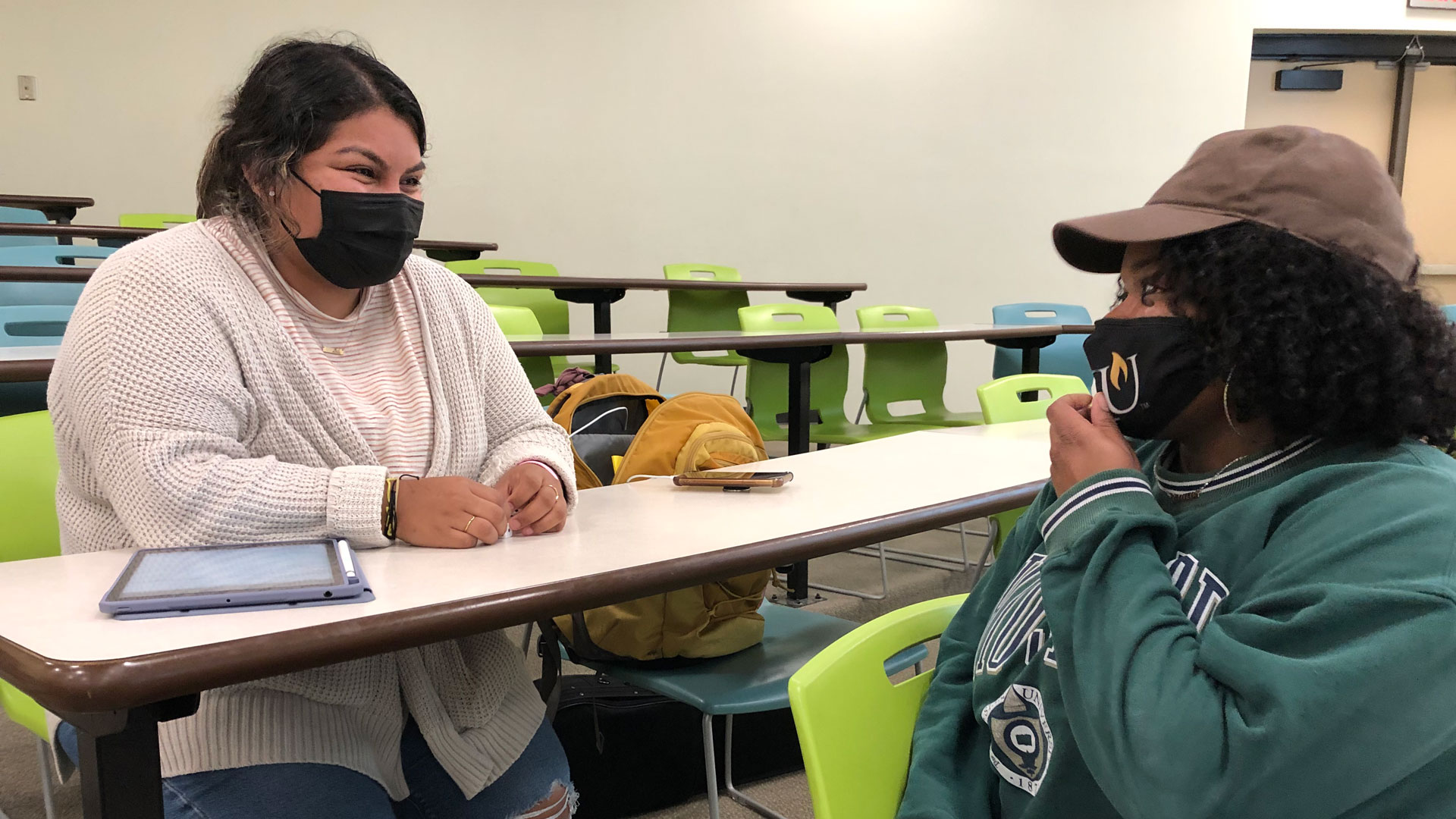 Note: This article highlights the experiences of one United Educators (UE) member and doesn't represent UE risk management or legal advice.
Northern Kentucky University (NKU) launched an initiative this academic year to train students to serve as resources for their peers on mental health issues.
Even before the COVID-19 pandemic began, university leaders were closely monitoring higher education's mental health crisis. The pandemic created an urgency to do more, since right now the "mental health crisis is the worst I've ever seen it in nearly 30 years in education," according to NKU Vice President for Student Affairs Eddie Howard.
While students today generally feel less of a stigma than prior generations regarding addressing mental health concerns, not all know what NKU resources are available, and some students are more reluctant than others to seek help, Howard says.
NKU leaders considered this when analyzing Healthy Minds Survey data, which indicated students are likelier to speak with peers than professors or counselors about their own mental health issues.
One solution to helping students find mental health resources and feel comfortable seeking help, the university decided, was to use state funding and federal COVID relief funds to create a course called Norse Support. (Norse is the university's nickname.) The course, developed in summer 2021 through the university's Human Services and Addictions program, teaches students to identify warning signs of mental health challenges among peers and classmates and refer those students to on-campus resources.
NKU believes increasing peer awareness and support will encourage more students to seek out campus resources.
How Does the Course Work?
NKU worked this academic year with organizations such as student government, Greek life, and student ambassadors to identify students to serve as "flag bearers" for Norse Support, says Christopher Lawrence, an associate professor who co-chairs the university's Mental Health Advisory Group.
The organizations nominate students to participate. It makes sense for NKU to select participants from these nominees since these students already are invested in the university and their peers, Lawrence says.
A graduate of NKU's clinical mental health counseling master's degree program, who is on staff at NKU's counseling center, teaches Norse Support.
The curriculum:
Details common mental health concerns in higher education
Provides an overview of resources available on NKU's campus
Offers basic skills training including recognizing signs that someone might be in trouble
Prepares attendees to actively listen to students who are in a crisis; they will learn to demonstrate understanding through reflective skills, validating troubled students' experiences and then referring them to on-campus mental health resources
The course runs in seven-week segments, with 15 students per group. By the end of spring 2022, roughly 60 students will have completed the weekly one-hour, pass/fail course and received one academic credit. COVID funding allows the course (and associated materials) to be free for students. Participants also receive a $300 stipend. Next year, the university may use other funding sources to help make the course continue for free, though it's not likely that students will receive $300 stipends.
While the stipend may motivate students to take the course, the university makes clear it expects attendees to play a continued role in supporting the university community.
"It's just like people being First-Aid and CPR certified," Howard says. "If I see someone's who's choking and if I know how to give CPR, then I'm going to jump in and act. Our hope is we put people out in the community … they have that training just to be able to use it in kind of a good Samaritan approach to mental health."
One thing Howard and Lawrence emphasize: The course does not pass off the university's responsibilities onto students.
Students in the course are learning to serve as an initial referral to someone, to say, "Hey, you look like you need help. Here's where to go," Lawrence says. "Your job isn't to provide the help, it's to provide the information that gets them there. … We're embedding people throughout the university so if they see something, they can say something and increase the likelihood that the person will get help. We're trying to do it in a way that is responsible and supported by the best practices often associated with peer support relationships."
The hope is that the initiative will help lead students in crisis to get help much sooner — before they reach a breaking point.
Mental Health Crisis Has Worsened Throughout Higher Ed
Many other colleges and universities could benefit from offering a similar course, Howard contends.
Focusing on mental health has become increasingly important in higher education, where more and more students have reported that anxiety and/or depression affect their academic work. Suicide is among the leading causes of death for college students, and 8% of full-time college students had suicidal thoughts and/or seriously considered suicide, according to a national study.
In recent years, mental health has consistently been among the top concerns for higher ed presidents. A 2021 fall survey from the American Council on Education showed that for the seventh time since April 2020, "mental health of students" was the pressing issue cited most frequently by presidents. Nearly 73% of presidents in the November 2021 survey identified student mental health as a pressing concern.
More Strategies When Creating Peer-to-Peer Initiatives
Based on NKU's experiences, Howard and Lawrence recommend institutions consider these additional strategies when addressing mental health via a course:
Understand the Course's Limitations
NKU recognizes undergraduate students can't — and shouldn't attempt to — serve as mental health counselors. Instead, the university helps students recognize signs of mental health issues and learn where to direct peers who need help. As a result, the university isn't providing within the course an overabundance of content that counselors — not students — must know.
Teach and Reach a Diverse Group of Students
NKU's course has drawn students of different races, ethnicities, genders, and socio-economic statuses, veterans and non-veterans, international students, and students who come from rural and urban areas.
Selecting a diverse group of students to participate in the course creates an opening to reach as many people as possible, including students of color and marginalized populations who might be reluctant to seek help, Howard says.
Spread the Word About Course Graduates
NKU plans to publicize the presence of the people who have completed the course. The university plans to supply students who completed the course with stickers (for the backs of their laptops or water bottles) and magnetic lapel pins that have a logo for the initiative. That way all NKU students — just not immediate friends or fellow club members of a graduate — are aware of who participated.
More From UE
Added to My Favorites
This content was added to My Favorites.