Increase Bounce House Safety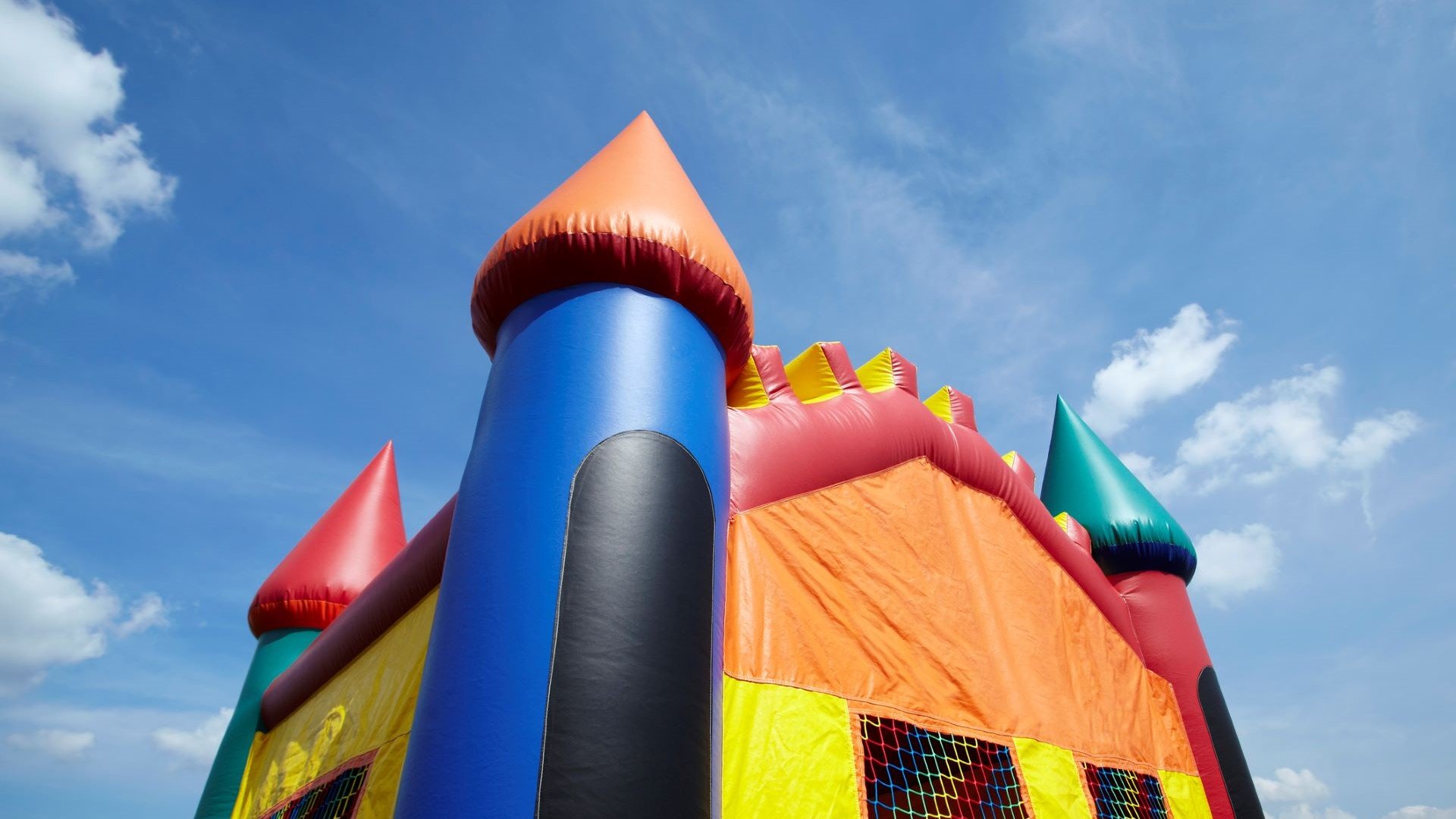 Create an approval process and implement rules to help make having inflatable toys like bounce houses safer on your campus.
Inflatable amusement devices like slides, games, climbing walls, and bounce houses are a favorite childhood entertainment option, but also a frequent cause of injuries. Given this danger, K-12 schools, colleges, and universities must make carefully considered decisions about whether to allow bounce houses and other inflatable toys on campus.
If your institution permits inflatable toys for student-sponsored or institution events, establish approval standards and safety rules to limit the risk to users.
Create Protocols
By establishing comprehensive request and approval procedures and liability transfer mechanisms, your school can have a measure of control over the vendors that bring inflatable toys onto campus, safety of usage, and who bears responsibility if injuries occur.
Set an institutional approval process. Create a bounce house and inflatable toy request form that collects all necessary information and routes it to a designated administrator (likely your risk manager) for review and approval. Add this step into all your institution's event planning checklists.
Require rental through a vendor. Don't allow student-owned inflatable toys. Rather, rent through a vetted vendor and require the rental agreement to include contract provisions indemnifying the sponsoring organization and your institution. Consider requiring the vendor to be a member of the Safe Inflatable Operators Training Organization.
Ensure your vendors are insured. Determine what insurance coverages and other requirements the vendors need for approval. Require vendors to add your institution as an additional insured on their insurance policies. Obtain a copy of the certificate of insurance prior to the event and keep it on file.
Confirm the vendor's license. If your state requires licensure, include this requirement in your bounce house/inflatables policy and confirm all state law requirements are met.
Require liability waivers. Have all participants sign liability waivers or assumption of risk forms before playing. Follow all additional requirements for appropriate waivers if the participants are minors.
Choose wisely. When approving the type of inflatable toy, make sure it doesn't have features that increase its dangers. For example, don't allow inflatable toys with water slides or toys that intend for (or likely will cause) participants to collide.
Monitor Setup and Usage
Proper setup is critical to the safety of participants using the inflatable toys. It is important to monitor the vendor's efforts and supervise appropriate usage of the inflatables when participants are playing.
Have experts do the setup. Require the vendor to deliver, set up, operate, and dismantle the inflatables. Ensure this requirement is noted in your contract and that the vendor assumes all responsibility for any process deficiencies.
Require constant adult supervision. The vendor should remain throughout the event to manage use. In addition, the organization renting the inflatable always should have a designated person overseeing the usage and enforcing your institution's rules.
Monitor the weather. Wind is a major cause of bounce house injuries. Even winds well below those triggering weather warnings can lift or flip inflatable houses. Excessive heat is also a concern, as bounce houses can heat up to temperatures much higher than the outside air. If there is wind, rain, or excessive heat in your area, close and deflate the bounce house until better weather returns.
Supervise setup. Verify the vendor secures the bounce house properly. Bounce houses should be anchored to the ground with sandbags or stakes.
Double-check with a safety walk-through. Consider requiring all events with inflatables to have an institutional safety officer review the setup before the activity begins.
Post signs. Hang signs saying "Bounce at own risk" and require children to have a parent supervising them.
Enforce Safety Rules
Using bounce houses and other inflatable toys with appropriate care in all cases, but especially on school campuses, is important. While the vendor may have rules providing some guidance, your institution should also set its own rules for use. Comply with standards and safety measures the U.S. Consumer Product Safety Commission and the American Society for Testing and Materials set.
At a minimum, your institution should:
Observe all size requirements. Follow all age minimums and weight and/or height restrictions the vendor establishes.
Don't crowd. Be mindful of capacity limits and don't allow use by more participants than approved.
Prohibit wild play. Don't allow flips or rough play like tackling or wrestling. Prohibit activities where competitive physical contact is the primary goal.
Don't allow items with loose buckles or exposed metal that can come in contact with participants.
More From UE
Checklist: Risk Management for Campus Student Events
Student Organizations and Activities: Managing the Risks
Checklist: Drafting Effective Releases
Minors and the Use of Releases
Waivers: Getting One Consent at a Time
About the Author
Christine McHugh, Esq.

Senior Risk Management Counsel

Christine's areas of expertise include employment law, sexual assault prevention, protection of minors, traumatic brain injury, and diversity, equity, and inclusion. Before joining the Risk Research team, she handled UE liability claims for several years. She previously practiced employment and higher education law.
Added to My Favorites
This content was added to My Favorites.