Treat Cheerleading as a Sport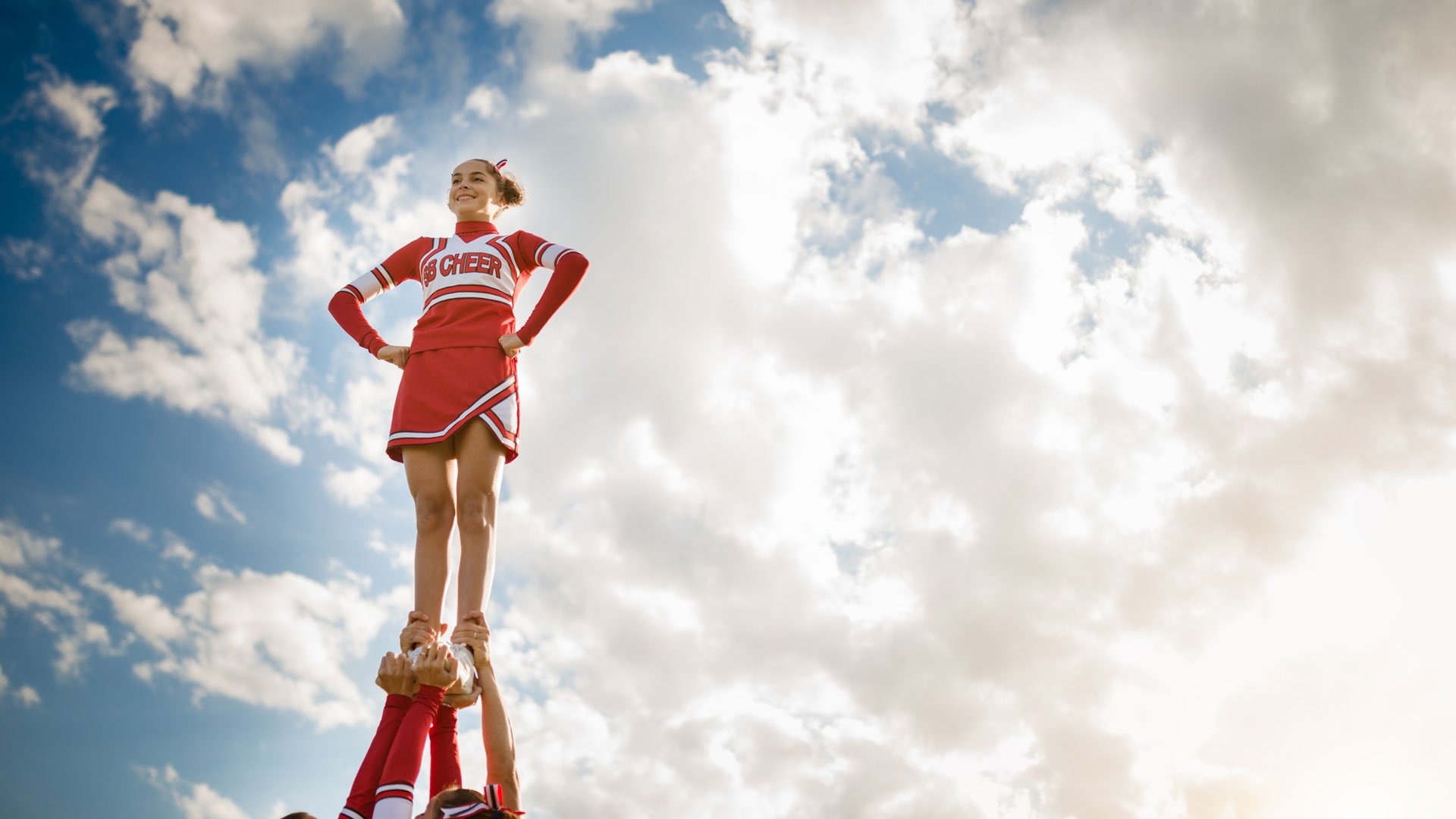 Ensure safety and prevent liability by providing your institution's cheerleaders with equitable resources
Despite the increased focus on cheerleading safety in recent years, cheerleading remains a dangerous sport. From fall 1982 through spring 2017, cheerleaders incurred a higher rate of direct catastrophic injuries than any other type of high school athlete. College cheerleaders also incurred high numbers of direct catastrophic events, second only to football players.
United Educators (UE) claims following K-12, college, and university cheerleading injuries involved paralysis, cuts, broken bones, and broken teeth.
Cheerleading is competitive, with athletic requirements rivaling those of other team sports. However, many athletic associations do not designate cheerleading as a sport, often resulting in less funding and resources. Regardless of whether cheerleading is recognized as a sport, institutions should provide cheerleading teams with equitable resources to ensure student safety and prevent liability.
Understand the Two Categories of Cheerleading
Confusion over cheerleading's status stems from abroad understanding of the term. Cheerleading can be divided into two categories ─ spirit squad and competitive cheer. Although there are similarities, these are distinct activities.
Spirit squad is the more traditional form of cheerleading, in which students cheer for school teams. Although their displays may be strenuous, cheerleaders on a spirit squad do not usually compete. Their main purpose is to support others. In a 2008 "Dear Colleague" letter, the Department of Education Office for Civil Rights (OCR) clarified that a spirit squad is not considered a sport for Title IX purposes.
Competitive cheer, also called STUNT or competitive spirit, combines gymnastics, cheer, and dance into a team event often requiring year-round training and practice. Teams compete at regional, state, and national events for prestigious honors. In the 2018-19 school year, over 100,000 high school students participated in competitive cheer. Competitive cheer may be considered a sport for Title IX purposes. OCR makes that determination on a case-by-case basis.
There is movement toward recognizing competitive cheer as a sport nationally, especially at the high school level. In 2016, the International Olympic Committee designated cheerleading as a sport and assigned a national governing body. Additionally, 31 states recognized competitive spirit as a sport in the 2018-19 school year, according to the National Federation of State High School Associations (NFHS) Participation Survey.
The movement toward national recognition is not as clear at the college level. The NCAA does not sanction cheerleading or provide oversight, and it doesn't plan to sanction cheerleading in the future. Without NCAA recognition, college cheerleading will continue to face barriers to resources.
Reduce Injuries and Liability Associated With Cheerleading
To reduce injuries and potential liability, allocate the appropriate resources similarly to other sports. Review your institution's cheerleading program and safety guidelines and take these actions:
Implement new rules. To create a safer environment, the NFHS revises cheer team rules annually. Recent rules increase the human supports for cheerleaders performing inverted stunts and eliminate the use of hard or sharp props by a top person performing a stunt.
Create an emergency action plan. Include concussion management plans. For more information on creating an emergency action plan, read Athletics Emergency Action Plans. For more information on creating a concussion management plan, read Checklist: Creating an Athletics Concussion Management Plan.
Develop a return-to-play protocol. Cheerleaders are at a high risk for concussions due to the sport's height, inversion, and physical contact. For more information on traumatic brain injury prevention, refer to the USA Cheer concussions guidelines with return-to-play recommendations.
Implement waivers. Create waivers tailored to the sport with a list of the specific injuries that may occur. For more on waivers, read Waivers: Getting One Consent at a Time.
Conduct preparticipation medical examinations. Preparticipation evaluations establish a standard of health and identify athletes who may be at increased risk of harm.
Train cheerleaders to follow safety guidelines. Provide proper conditioning programs and training of participants in spotting techniques and stunts.
Require safety certification of cheerleading coaches. Organizations such as the American Association of Cheerleading Coaches and Administrators, now part of USA Cheer, provide coach training and certification.
Use safety equipment and personnel. Ensure the use of adequate matting and spotters at all practices and events. For more information, see the 2020-21 USA Cheer College Safety Rules.
Supervise all practices and events. Supervisors should provide immediate medical attention to cheerleaders who suffer injuries or show signs of head trauma and report injuries to administration.
More From UE
Concussion Awareness Course Collection
Additional Resources
USA Cheer: Position Paper on Cheer Safety & Title IX
National Center for Catastrophic Sport Injury Research: Report 2018
About the Author
Melanie Bennett, Esq.

ARM-E, Senior Risk Management Counsel

In her role on UE's Risk Research team, Melanie dives into timely topics affecting education. Her areas of expertise include protecting minors, enterprise risk management (ERM), technology accessibility, and athletics. Prior to joining UE, she interned at the U.S. Department of Education's Office for Civil Rights. Melanie serves on the Higher Education Protection Network's (HEPNet's) Board of Directors.