Gonzaga Helps Address Students' Mental Health Via In-Class PSAs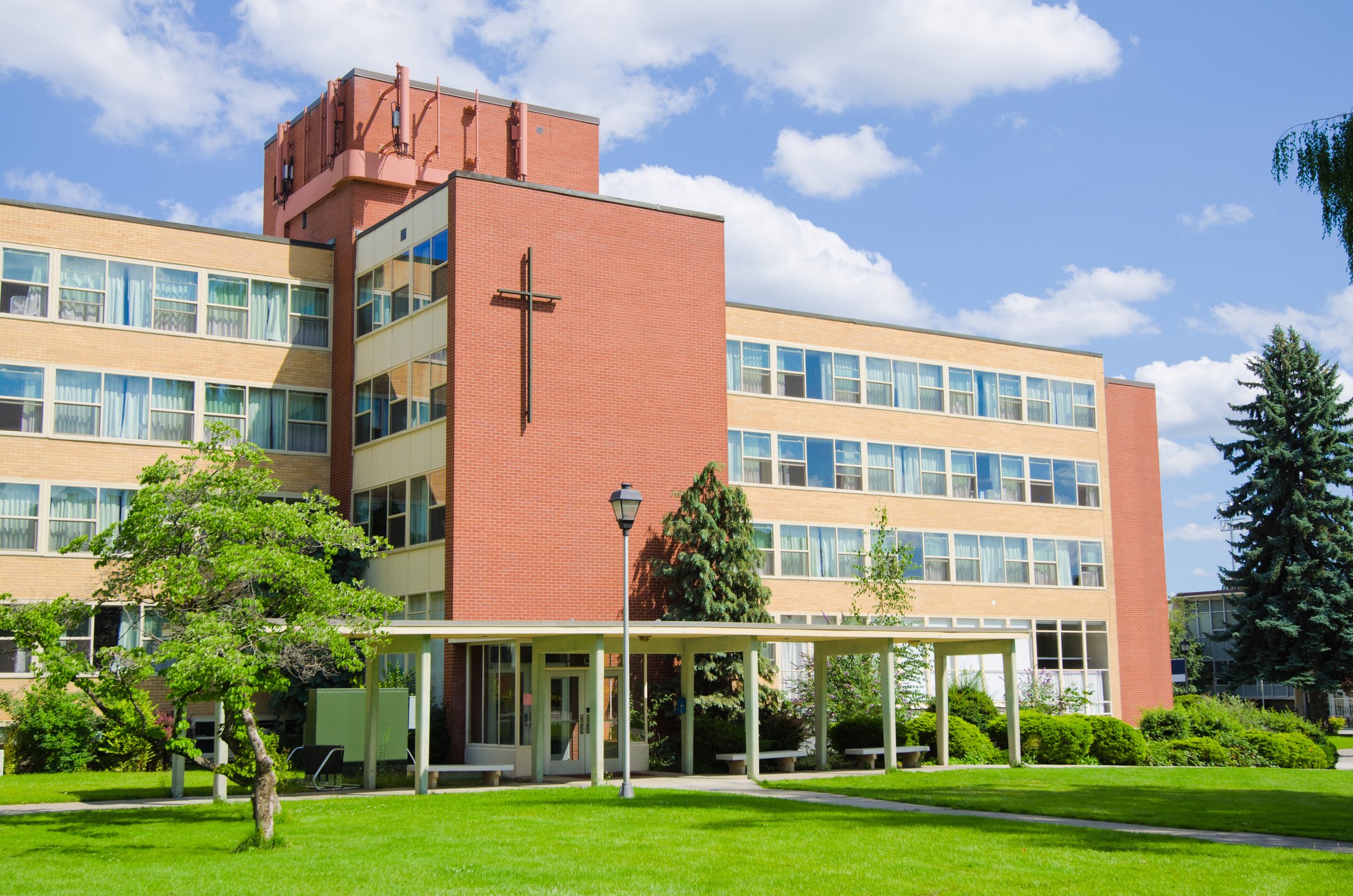 Note: This article highlights the experiences of one United Educators (UE) member and doesn't represent UE risk management or legal advice.
To help address mental health concerns by meeting students where they are, Gonzaga University shows students targeted slides before classes. The public service announcements (PSAs) appear on a loop to promote awareness of the university's mental health resources and highlight strategies students can use to manage difficult events, reconnect with others during the pandemic, and relieve stress.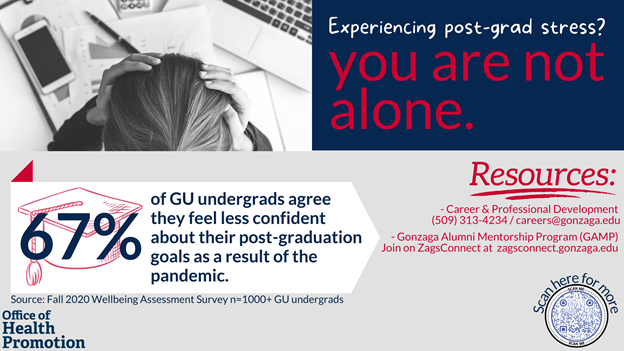 It's possible for the messages to reach in-classroom learners as well as those who log in remotely.
The slides have been a tremendous success, says Brian K. Steverson, a professor and John L. Aram Chair of Business Ethics at Gonzaga's School of Business Administration.
Of the student respondents to a fall 2020-21 survey:
87% reported noticing the messaging on the screen at the beginning of class
84% reported a "somewhat positive" to "strongly positive" feeling about the content of the messaging
77% felt supported by their professor as a result of encountering the messaging
65% reported having taken steps to care for their mental health as a result of encountering the messaging
Professor's Idea Sparks Strategy to Improve Messaging
Like a lot of higher ed institutions, Gonzaga searched for ways to address the ongoing student mental health crisis ─ a crisis the COVID-19 pandemic worsened. Connecting with students on this important topic was a key hurdle to overcome.
When Student Affairs leaders send well-intended health and safety messages via email, sometimes students react as though they're being nagged by parents or they ignore the messages entirely.
"You can have all this information," Steverson says. "But if your distribution methods aren't making contact in the ways you need them to, the messages aren't going to be effective."
Steverson recognized the benefits of communicating in a classroom setting, where students are a captive audience. Students would naturally see information presented to them before classes, and faculty could help draw students' attention to it.
With Gonzaga's hybrid learning model during the 2020-21 academic year, some students attended classes in person and others attended via Zoom. Since professors regularly got to class early to get Zoom started, it was a perfect opportunity to display the PSA slides on mental health.
Collaboration at Gonzaga Tackles Mental Health
Gonzaga takes a collaborative approach engaging faculty in student affairs. For the past three years, Steverson has been part of a working group related to alcohol awareness. That effort morphed into the project related to the mental health slides.
When Steverson pitched the idea of slides, the university's Risk Manager, who was a member of the working group, pointed out the connection between addressing mental health for students and eliminating risk for the university in doing so.
The university's Risk Management department and Office of Health Promotion guided content creation for the slides.
Initially, Gonzaga created four looping slide decks, each with four slides per deck. Each slide was viewable for about 30 seconds before automatically shifting to the next slide. Faculty could play slides as they started classes, waiting for students to arrive. Students saw the slides whether they were online or in a classroom.
While focused on various topics, the slides all link back to mental health. For example, one deck has information on alcohol awareness, another emphasizes stress management, and a third explains that even during a pandemic it's possible to build a community.
Meetings Helped Gonzaga Achieve Buy-In
Since Steverson had served as Faculty President for four years and has many connections across campus, he became the point person for getting buy-in from Gonzaga's seven schools.
He reached out to the deans and got face time with six of them. He explained the goal and how faculty could use the slide decks. He asked the deans to forward the slides with an accompanying email to encourage faculty to display them. The deans' decision to send out the slides was voluntary, as was faculty's decision to display slides before class.
The university didn't provide formal training or scripts to professors about how to present the PSAs to students, but many professors ─ at least during the first two or three weeks they had the slides ─ drew students' attention to the slide decks.
Steverson estimates that during the 2020-21 academic year, about 250 classes displayed the slides. Although that number likely has dropped a bit this year since classes are no longer taught on Zoom, revised and improved slides remain on display in many classrooms throughout the university in fall 2021 and will appear in the spring as well.
Gonzaga decided the PSA campaign remains important because "students are still struggling to process not just the pandemic but the aftereffects of the pandemic," Steverson says.
Strategies to Launch Mental Health PSA Slides at Your Institution
Based on Steverson's experiences, he recommends institutions consider these strategies related to mental health outreach slides:
Encourage Different University Leaders to Discuss the Benefits
Have your Vice President for Student Affairs or Vice Provost for Student Affairs meet with an academic vice president or provost. A conversation about mental health and academic performance can help lead to simple strategies, like slide decks, that don't require much time or effort on faculty's part.
Examine How Faculty Begin Classes
At Gonzaga, many classes begin informally. Professors don't launch straight into teaching the second they walk in the door. Allowing a few minutes for slides is a simple way to convey important mental health information and signal to students your sincere concern about them.
Be Persuasive With Deans, Faculty
When speaking with deans and faculty about using mental health PSA slides, make a persuasive case about how mental health and well-being is a serious issue for students ─ and one that impacts academic performance.
Ensure Faculty Understand How to Speak With Students About Mental Health
Prior to the start of the 2020-21 academic year, Gonzaga's faculty had several opportunities to attend training sessions that dealt with student mental health. While not focused on the PSA slides specifically, the training helped faculty with developing conversational skills so they could better speak to students about mental health.
More From UE
Added to My Favorites
This content was added to My Favorites.