APCIA Selects Four United Educators Employees as Emerging Leaders in Insurance
Bethesda, Md., June 7, 2022 — The American Property Casualty Insurance Association (APCIA) named four United Educators (UE) employees to the 2022 class of Emerging Leaders.
"The 2022 class of Emerging Leaders continues the trend of excellence we have seen with each group of future industry leaders over the last four years," said David A. Sampson, APCIA's President and CEO. "These bright and talented individuals have helped the industry navigate many challenges over the last year, and their leadership should be commended."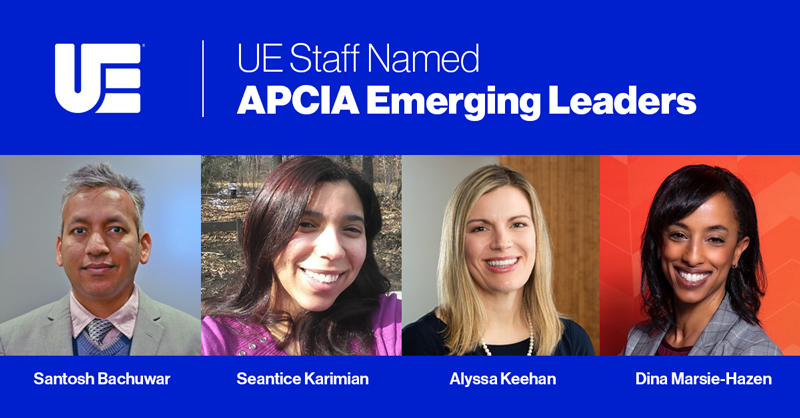 The UE employees who were among the 122 insurance professionals to receive the honor:
Santosh Bachuwar, Director of IT Applications
Seantice Karimian, Underwriting Manager
Alyssa Keehan, Director of Risk Management Research and Consulting
Dina Marsie-Hazen, Senior Resolutions Analyst II
"We're proud of Santosh, Seantice, Alyssa, and Dina for earning this noteworthy industry recognition," said Janice Abraham, UE's President and CEO. "As inclusive leaders, they play a key role in helping our members navigate the distinct risks and opportunities K-12 schools, colleges, and universities face."
The honorees are invited to attend the 2022 Emerging Leaders Conference in Denver in August hosted by APCIA, the Insurance Careers Movement, and AM Best. The conference will bring together and recognize rising stars in the insurance industry and offer insights to executive leadership, offer unique networking opportunities, and provide a focus on professional and personal development.
"The exceptional 2022 class of Emerging Leaders is contributing in significant ways to new models of working, are advancing societal issues, and are fostering cultures of inclusion," said Marguerite Tortorello, Managing Director of the Insurance Careers Movement.
About 1,600 member institutions rely on UE for insurance coverage and risk management products and services, including online learning offerings, which are available at no additional cost through an institution's membership with UE. Select course collections also are available to non-members for purchase.
# # #
About UE
UE is education's answer to the distinct risks and opportunities institutions face. UE provides liability insurance and risk management services to about 1,600 members representing K-12 schools, colleges, and universities throughout the United States. Founded in 1987 as a risk retention group, UE is owned and governed by the institutions it insures. UE addresses our members' unique risks through thoughtful underwriting resulting in appropriate coverage.