News Release
For media inquiries, contact Tish King, Director of Communications.
United Educators Recognized As a Top Woman-Led Workplace
Bethesda, Md., Jan. 10, 2023 — United Educators (UE) insurance has been named one of the nation's best woman-led workplaces.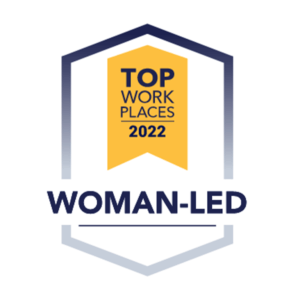 UE earned 2022 Top Workplace Culture Excellence recognition for Woman-Led Top Workplaces. The honor comes from Energage, a research company with more than 16 years of experience surveying over 27 million employees at 70,000 organizations. Awards are based solely on employee feedback.
The Woman-Led Top Workplaces award celebrates outstanding organizations whose most senior leader is a woman. These leaders, according to Top Workplaces, "have fostered and built stand-out workplace cultures that perform."
UE's President and CEO, Janice Abraham, joined UE in 1998 and during her tenure the company has become known as the premier risk management and liability insurance company serving educational institutions.
"Offering an inclusive environment that's a great place to work for people of any gender, race, and culture is central to the success of our mission serving education," Abraham said. "It's an honor that our employees recognized UE for our collaborative, inclusive, and supportive workplace culture."
Employee feedback on the research-backed, 24-item employee engagement survey described UE as "collaborative," "inclusive," "diverse," "supportive," and "mission-driven."
"Top Workplaces is a beacon of light for organizations as well as a sign of resiliency and impressive performance," Energage CEO Eric Rubino said. "When you give your employees a voice, you come together to navigate challenges and shape your path forward. Top Workplaces draw on real-time insights into what works best for their organization, so they can make informed decisions that have a positive impact on their people and their business."
UE received the Woman-Led Top Workplace honor for companies with 150 to 499 employees.
# # #
About UE
UE is education's answer to the distinct risks and opportunities institutions face. UE provides liability insurance and risk management services to about 1,600 members representing K-12 schools, colleges, and universities throughout the United States. Founded in 1987 as a risk retention group, UE is owned and governed by the institutions it insures. UE addresses our members' unique risks through thoughtful underwriting resulting in appropriate coverage.