Rice University Uses COVID Court to Help Prevent Outbreaks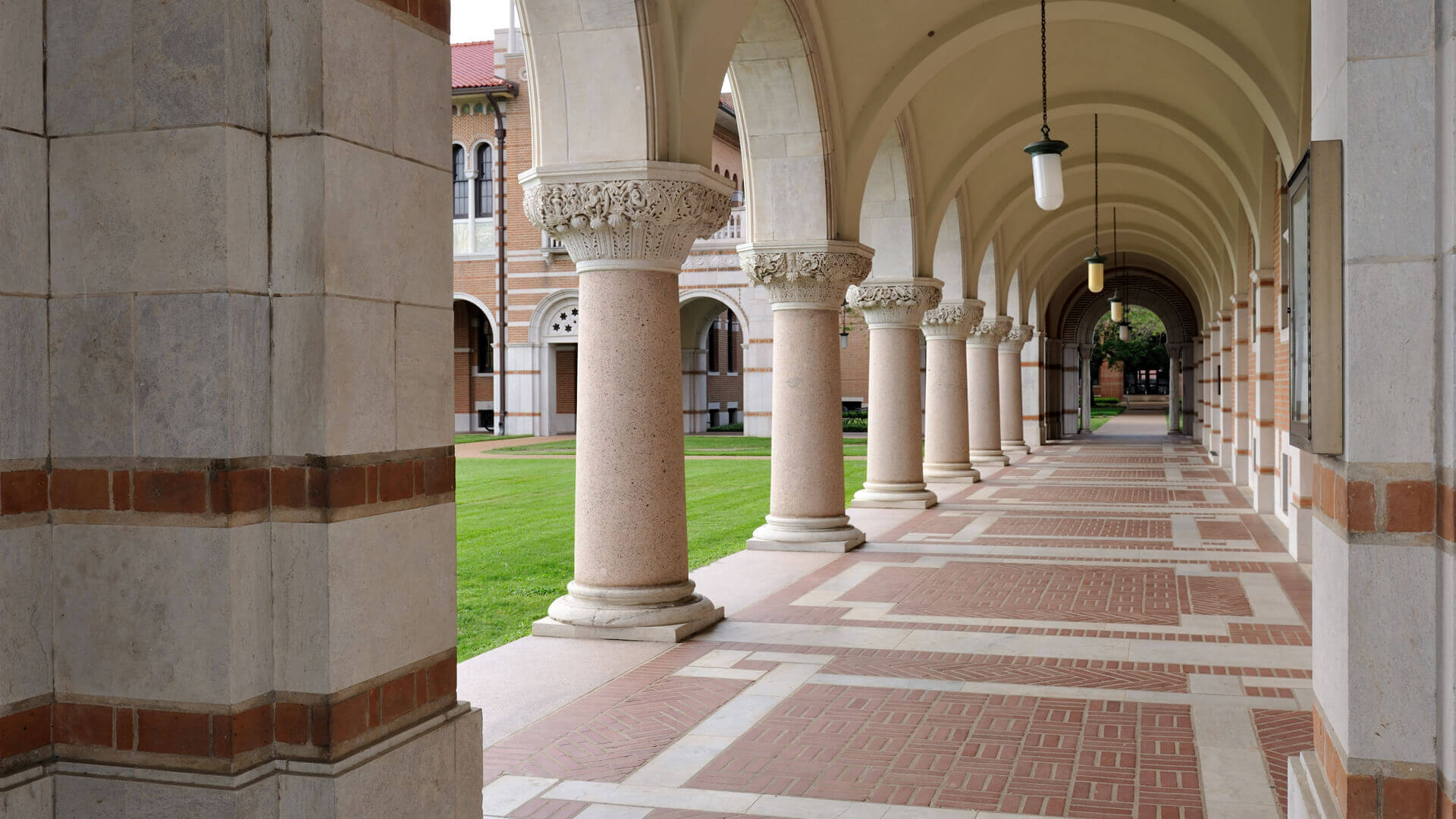 Note: This article highlights the experiences of one United Educators (UE) member and doesn't represent UE risk management or legal advice.
To ensure students are aware of and comply with its Culture of Care agreement related to the pandemic, Rice University has launched a student-run COVID-19 Community Court. Panel members assess whether undergraduates on campus violated terms of the agreement.
Students appear before the panel if they failed to wear a mask or didn't maintain a physical distance from classmates, for example.
The court is one puzzle piece the Houston-based university has used to prevent outbreaks on campus. Data show the university has been successful thus far. While the city of Houston announced on Dec. 7 a positivity rate of 8.8%, Rice's positivity rate from Aug. 1 to Dec. 7 was 0.15%.
Having students serve on the COVID court increases the likelihood that students will follow safety rules, says Emily Garza, Rice's Director of Student Judicial Programs.
"It's promoted an air of accountability among the student population," Garza says.
COVID Court Enforces Expectations
The idea for a COVID court came from various working group, task force, and committee meetings that discussed safety after the pandemic caused Rice — like most institutions nationwide — to stop providing in-person education in spring 2020.
Rice leaders knew that due to COVID, there would be a new set of rules and expectations when students returned to campus. The university looked for ways to enforce those expectations for students, Garza says.
Rice, a private research institution with a student enrollment of about 4,000, traditionally has had student-led and student-run governments. For example, both the Honor Council that investigates and adjudicates academic integrity and the University Court that enforces Rice's code of conduct are student led.
Since Rice students already are used to the concept of being held accountable by peers, it felt like a natural fit to create a COVID court, Garza says.
Honor Council and University Court members didn't initially sign up to adjudicate cases involving the Culture of Care agreement, and their roles already required a significant time commitment. It made sense to create a separate court specifically for handling COVID violations, Garza says.
Court Provides Students a Voice
Rice has 11 COVID court panel members; each represents one of the university's residential colleges. Presidents of each residential college asked students to apply if they were interested in becoming members. Based on those applications, magisters and college presidents chose panel members.
Members have received training on how to have difficult conversations with peers, on student health, and on how to conduct a fair process where the objective is holding people accountable for their behavior.
In any given case, three panel members are tasked with determining whether a student violated the university's Culture of Care agreement.
Rather than deciding to suspend or expel student violators or even dole out significant fines for initial violations, the university wants the court to serve as an educational tool. Violations don't appear on disciplinary records. Panel members "are more like peer educators, really," Garza says.
The court opened Aug. 24, when classes resumed for the fall semester. So far, the panel has handled 70 to 80 cases — all on Zoom.
In some cases, a misunderstanding had led the student to be brought before the court and no violation was committed. For example, a student might have posted a picture on Instagram where she wasn't wearing a mask and was standing close to other students — but the picture had been shot a year prior to being posted.
In most cases, however, students brought before the panel were guilty and apologized for their mistake.
No student has refused to appear in court. And only a handful of students have been accused of committing repeat violations; the Student Judicial Programs office handles those subsequent cases, and punishment might be more punitive.
Violators' Punishments Vary
While the COVID-19 Community Court has the authority to fine violators up to $75, panel members have been told that it's only appropriate to do so if the behavior at issue requires restitution — such as if the violation caused property damage or unnecessarily used first responder resources.
For example:
A student spotted in common areas of a residential college not wearing a mask might be told to create three posters about the importance of wearing masks and to place those posters in highly trafficked common areas.
Students might be required to watch a training video on public safety measures related to COVID.
Students might have to complete an educational research paper on the impact of COVID-19 in the community and the impact of their inappropriate behavior.
Consider This When Creating Your Own COVID Court
Provide a Way to Make Anonymous Reports
When Rice students see fellow students commit violations of community standards relating to health and safety measures that Rice adopted to address COVID, they can fill out a form — anonymously or otherwise — to report the behavior. While having the ability to follow up with the accuser could be extremely helpful with investigations, COVID is a hot-button, politicized issue, so it's not a good idea to force people to identify themselves when making reports, Garza says.
Get Students to Buy In
Having students apply to serve on the panel "was a key to having students buy in to this concept," Garza says.
And getting student leaders to give their stamp of approval to the court also was important. Students have been saturated with messages from school leaders about COVID-19 compliance, but having peers speak in favor of the panel provided a fresh perspective, Garza says.
Don't Make the Court About Punishment
Rice's goal is to ensure students understand and comply with the Culture of Care agreement, Garza says. "We don't want to get people in trouble. We want to educate the community about why health and safety is important."
Rice was founded in 1912 and has been a UE member since July 2002.