Duke University Thinks Outside the Box to Combat Hazing As Students Return to Campus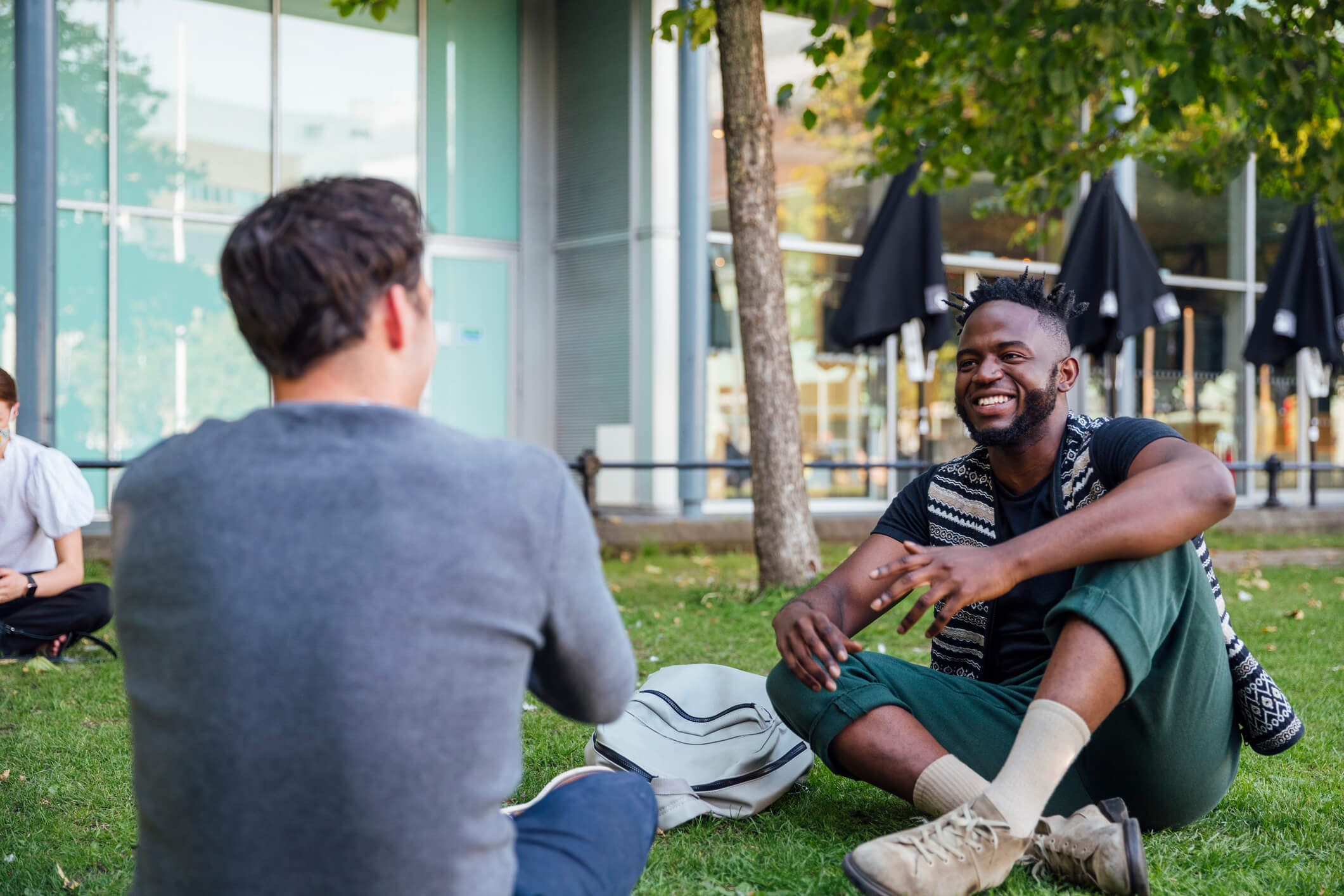 Note: This article highlights the experiences of one United Educators (UE) member and doesn't represent UE risk management or legal advice.
Higher education leaders recognize many risks, including hazing, surrounding students returning to in-person learning after more than a year away from each other.
While institutions will have many competing priorities this fall – including preventing COVID-19 outbreaks – and resources will be stretched thin, it's crucial to maintain a commitment to hazing prevention.
This fall, Duke University is using a unique strategy to incorporate hazing prevention training within an issue many across higher education consider an essential issue for student organizations – diversity, equity, and inclusion. The idea is to explain how preventing hazing is one way to help foster a safe and inclusive educational community.
Students who don't participate in extreme activities such as binge drinking associated with hazing, may not see the relevance of traditional "Hazing Prevention Training," says Emilie Dye, Duke's Director of Student and Engagement, Leadership.
Prevent Hazing on Campus and Online
With the possibility of hazing increasing in 2021, "We need to be more prepared and vigilant," says Elizabeth Allan, who directs the Hazing Prevention Consortium (HPC), a project of StopHazing, and is also a professor of higher education at the University of Maine in Orono.
September is National Campus Safety Awareness Month and a great time to promote anti-hazing efforts. Consider using these hazing prevention strategies from the HPC and Duke:
Offer Creative Online Training
In August 2021, Duke launched a training module that's required viewing for student leaders of all recognized student organizations (which includes fraternity and sorority leaders, selective organization leaders, and sports clubs), pre-orientation leaders, and first-year advisory council members. Duke's goal is to broaden viewers this spring to include resident assistants and athletic team leaders.
About midway through a 6-minute module on the importance of belonging and equity-centered organizations, the discussion shifts to hazing.
"There are likely things happening in your organization or on your team that impede members' ability feel like they belong – and some of that may be hazing," says Justin Sharpe, Associate Director of DuWell, Duke's wellness unit within Student Affairs.
The module tackles hazing's definition, actions that are considered hazing, and who to contact if concerning behaviors occur.
Duke defines hazing as any "action taken or situation created that is harmful or potentially harmful to an individual's physical, emotional, or psychological well-being, regardless of an individual's willingness to participate or its bearing on an individual's membership status. Hazing can occur anywhere – on or off campus."
The university explains that hazing behaviors can occur on a spectrum, which is why certain types of hazing go unreported or even unnoticed. Behavior such as socially isolating new members or giving new members demeaning names occur often but are less likely to be considered hazing when compared to behaviors such as paddling or forced alcohol consumption.
The university also is offering 60- to 70-minute facilitated discussions to open the conversation about belonging, equitable communities, and hazing prevention. The discussions will be mandatory for fraternities and sororities and voluntary for other student organizations and teams.
Remain Committed to Preventing Hazing
The concept of commitment is vital for campus hazing prevention, Allan says.
To strengthen that commitment, the staff at StopHazing and the Clery Center have released a free action guide that includes resources related to warning signs of hazing, basic information about hazing, and suggestions for prevention.
"They're really practical tips and tools," Allan says.
Train Staff, Students on Hazing
Consider UE's online course "Recognize and Prevent Hazing," which helps students understand how to recognize and respond to incidents of hazing, and how to find an institution's hazing policies.
Additional free evaluated training includes the 17-minute Clery Center documentary "We Don't Haze," where families and victims of hazing explain the impact it has on campus communities.
Dispel a Common Myth About Hazing
Many students and institutions only think of hazing as an issue that involves fraternities and sororities, Dye says. But many other students are at risk for hazing, including athletes and students in performing arts organizations, for example.
Involve Multiple Stakeholders
Take a comprehensive approach to combat hazing by creating a coalition that comes together and develops a strategic prevention plan, Allan recommends. Involve multiple stakeholders, including those who have the potential to reach a range of students.
Allan recommends including people who:
Work directly with students and student groups
Work in student activities
Work in fraternity and sorority life
Work in athletics (advisors, coaches, trainers, etc.)
Are familiar with sexual violence prevention
Are involved in student conduct
Work in residential life
Are faculty members
Also involve campus police, parent representatives, and alumni, she adds.
Launch an Anti-Hazing Webpage
Since hazing extends beyond Greek life, it's important to create a campus anti-hazing webpage that's centralized and easily accessible, Allan says. At many universities, people need to dig through the institution's website to find information about hazing. The detail might only be on a fraternity and sorority life page or on a student conduct page, for example.
Don't make people have to make more than three clicks to get to your anti-hazing information, Allan advises.
Allan noted that Cornell University has a great webpage.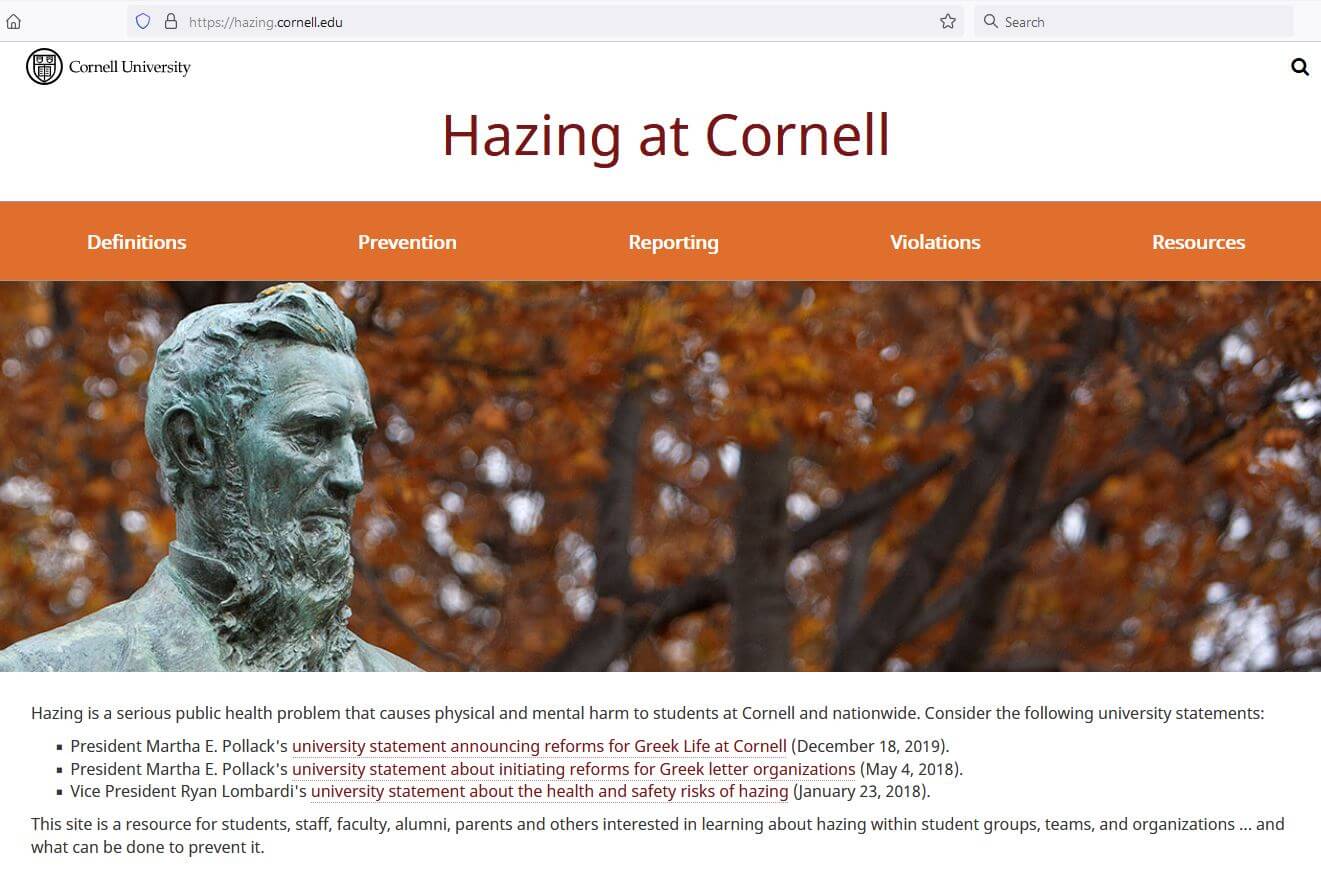 Among the things Allan recommends including on a centralized page:
Define hazing.
Explain who on campus receives reports of hazing. List phone numbers and email addresses for whom to contact.
List organizations and clubs on campus that have been responsible for prior acts of hazing. This is important because otherwise, students/families may lack knowledge of a prior pattern of hazing when a student is considering whether to join the group.